Embark on Your Visual Journey with Us
Whether you're a corporation, a nonprofit, a law practice, an architecture firm, or a university, we recognize your story's uniqueness and requirements.
At Kim Brattain Media, we're both service providers and your creative partners, ready to elevate your narrative with unparalleled video quality. That's what makes us a top-choice video production agency.
Let's start this exciting journey together and craft videos that resonate, inspire, and make a lasting impact.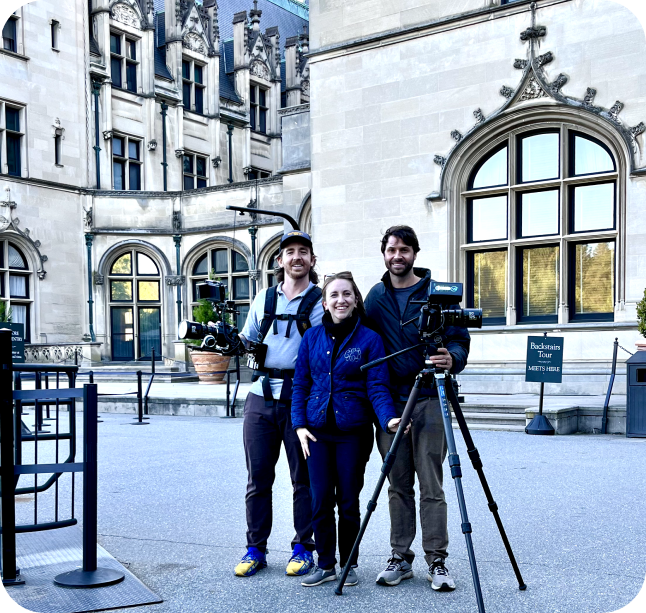 Including video content makes a page 53 times more likely to rank on page 1 of search engine results.
Videos generate 1200% more shares than text or images on social media.
Landing page videos can increase conversion rates by 80% or more.
Your Path to Impactful Storytelling
Why you should elevate your brand through quality video content
Refine core values and target audience through video, transforming visibility into direct, measurable ROI by captivating the right attention and engagement.
Turn storytelling into action. Our videos forge emotional ties with audiences, building loyalty and catalyzing customer conversion through relatable experiences.
Your brand video isn't just content—it's a dialogue. Strategic distribution across apt platforms ensures your narrative connects, compelling viewers towards profitable action.
Proven Success. Visual Narratives.
The Kim Brattain Media team has over 40 years of collective experience producing compelling videos for corporations, law offices, architecture firms, nonprofits, and universities across America. 
Our primary skill is storytelling through film with persuasive, succinct and memorable videos. Our award-winning video production agency is committed to telling your organization's story through our creative blend of writing, visuals, sound, and camera work.
We're proud to have helped clients achieve a 250%+ jump in quality leads, a $725 million revenue increase, and a 123% savings in cost-per-click advertising.
We invite you to view our most recent projects to see for yourself the KBM difference!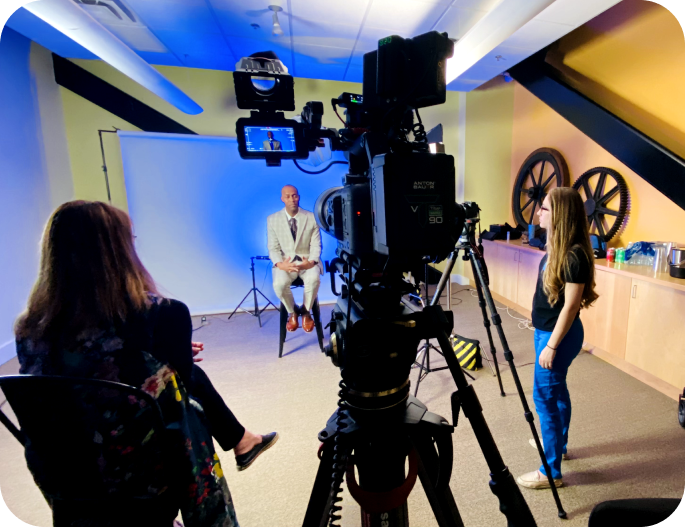 Industry Awards and recognition
Frequently Asked Questions
Got Questions? Find Answers Here.
Video is a powerful tool for storytelling, engaging your audience, and conveying complex information. Videos also boost brand awareness and increase conversions. Check out our archive of video projects here.
Costs can vary depending on factors like video length, complexity, location, and equipment. We will provide you with custom quote based on your specific project. We strive to offer competitive pricing for the high quality that we deliver.
Our entire team is ready for all of your video production needs, wherever you may be!
Real stories. Real impact.
Hear What Our Clients Have To Say
"As Director of Production for The Sing Me a Story Foundation, I travel and work on shoots all over the country. I have not worked with a better team. Chelsea was easy to communicate with and understood our nonprofit mission. Andrew Paustian and Andrew Hall were professional, good-natured, hard-working, and captured amazing footage (b-roll & interviews). Highly recommend!"
"I had the great pleasure of working with Kim's team on multiple occasions. This particular occasion I needed to live stream a broadcast internationally to over 600 investors for a company. It was flawless! Kim and her team are extremely professional, very knowledgeable and there's nothing they can't do! I can't wait to work with them again!"
"I've been working with Kim Brattain Media to help tell the story of how nonprofits make a positive impact in our community and people's lives for more than a decade and I've never been disappointed. Kim and her team are good listeners and talented videographers and editors. They know how to get the footage and put the pieces together to create concise, powerful videos that share an organization's mission and effectively make a case for support. I highly recommend!"